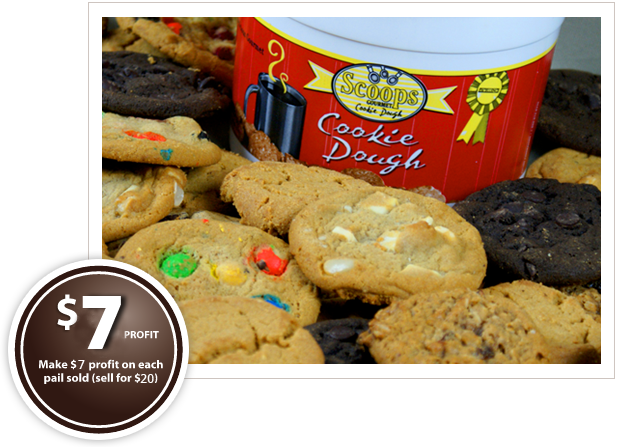 GREAT ADD ON TO COOKIE DOUGH CAMPAIGN.
Gourmet Cookie Dough
Everyone loves cookies, especially the home-baked variety. "Scoops" Gourmet Cookie Dough gives your consumers all the taste and quality they would expect from their kitchen.
Each 4lb pail sells for $20 / Your cost $13
Tender, chewy, homemade taste
Made with preservative-free ingredients
Scoop and easy-bake convenience in 15 minutes (Baking instructions on package)
Dough can be stored fresh or frozen, can be thawed and re-frozen and makes 60 (30g) cookies
Choose from 11 great flavours:
Buttery Shortbread
White Chocolate Macadamia Nut
Ginger Molasses
Peanut Butter
Oatmeal Chocolate Chip
Double Chocolate
Sugar Cookie
Monster (Candy-Coated Chocolate Pieces)
Healthy Choice Chocolate Chip
Healthy Choice Oatmeal Raisin
Healthy Choice Dark & White Chocolate Chunks
All our flavours are made with non-hydrogenated margarine. The Healthy Choice flavours are Trans Fat Free, Low in Saturated Fat, and a High Source of Iron.
Allergy information: All cookie dough is manufactured in a plant that processes milk products, peanuts and other nut meats. All cookies are Orthodox Union Kosher Certified (OUD).
Add Cheesecake along with your Cookie Dough drive!
Cookie Dough Steps to a Worry-Free Fundraiser
1. Contact Future Fundraising
2. Cookie Dough Order Form
3. Receive Package:
All required forms will be sent to your group organizer prior to starting date of campaign.
4. Once Drive is Complete:
The Master Order is forwarded to Future Fundraising via fax or email. An invoice will be returned within 2 business days to include any rebates or freight charges. Payment is submitted prior to the order ship date. Cookie Dough and Cheesecake Master Order must be placed in cases of 6 pails or cakes same flavour, no mixed cases.
5. Delivery:
Shipping dates and special requirements are arranged prior to shipping. The product is delivered within 7-10 days after submission of the order. Free shipping on orders of 70 cases or more (420 pails or cakes) to all major centers. Freight costs vary with locations, weights and special requirements, contact us for further information in regards to shipping to your area.
Cookie Dough Product Information
Scoops Gourmet Cookie Dough
Buttery Shortbread (04A-SP413)
White Chocolate Macadamia Nut (04A-SP426)
Ginger Molasses (04A-SP435)
Peanut Butter (04A-SP436)
Oatmeal Chocolate Chip (04A-SP466)
Double Chocolate (04A-SP476)
Sugar Cookie (04A-SP490)
Monster (Candy coated Milk Chocolate pieces) (04A-SP492)
Scoops Healthy Choice Cookie Dough
Healthy Choice Chocolate Chip (04A-SP494)
Healthy Choice Oatmeal Raisin (04A-SP495)
Healthy Choice Dark & White Chocolate Chunk (04A-SP496)
Click to view Nutritional Info PDF
Allergy information: Contains wheat, milk, eggs, soy. Processed in a plant that contains peanuts, tree nuts, sulphites and tartrazine. All cookies are Orthodox Union Kosher Certified (OUD). Product of Canada
---
BAKING INSTRUCTIONS: (Conventional Oven)
1. Preheat oven to 300°F / 150°C.
2. Spoon and form cookie dough into balls (30g) and place approximately 2" apart onto ungreased cookie sheet.
3. Bake for 14-16 minutes or until golden brown.
4. Cool for 5 minutes and then remove from cookie sheet.

5. Store cookies in tightly sealed container for maximum freshness.
Yields 60 — 30 gram cookies
Keep frozen or refrigerated
Dough can be thawed and refrozen
Do not microwave unbaked dough
Net Weight 1.8 kg. / 4lbs. PRODUCT OF CANADA
Cookie Dough Profit Potential
# of cases sold (# of pails)

SHIPPING CHARGES MAY APPLY, GET ESTIMATE BEFORE YOU GET STARTED
FREE SHIPPING ON ORDERS OVER 70 CASES

$2,940.00

$4,200.00

$8,400.00

$14,000.00

$17,500.00
See Delivery for requirements.
---
Cookie Dough Incentives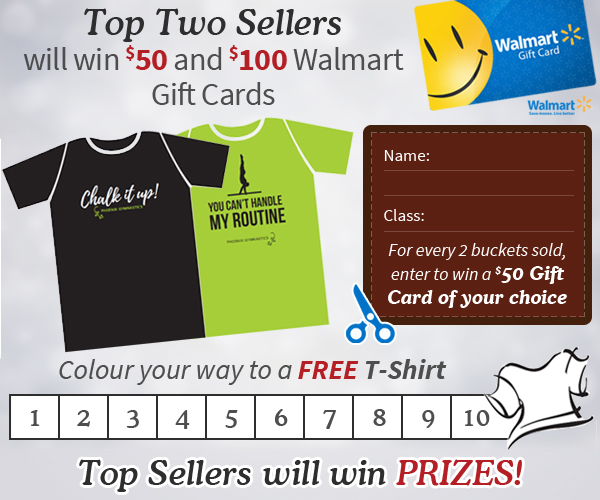 Incentives: offering prizes to top sellers or setting a goal for each seller to receive a prize will increase your sales, increasing profit, while rewarding your sellers. Future Fundraising works with each individual fundraiser to develop an incentive program that works best for them and their sellers.
For example, you can add a t-shirt promotion, when a student or athlete sell a set number of pails of cookie dough they receive a custom t-shirt, you can have top seller prizes to reward those sellers who put the extra effort into selling or simply have a draw for a prize for everyone who seller a certain number of pails.
Implement your own incentive ideas and we will help incorporate them into your drive.
There is a cost associated with incentive and top seller prizes but the profit gained exceeds the cost of the incentive program as shown on the graph below.
number
of sellers

pails/
seller

total
pails sold

avg
profit/pail

profit
to club

total profit
to club

$42.00
By adding incentives the average number of pails per seller increases, increasing the profit and rewarding the seller.

Example
number
of sellers

total
pails sold

avg
profit/pail

profit
to club

total profit
to club

$60.00
Cookie Dough Forms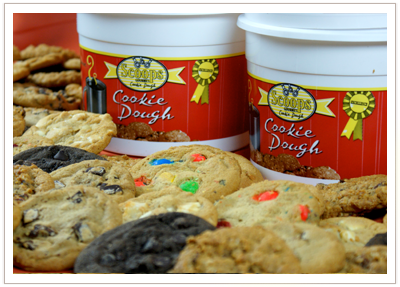 PDFS: Right-mouse click and select "Save Link As" to save to your computer
Contact us to customize your forms to include all products and flavours or choose only your favourites!
Contact us to print your customized Order Forms.
If you have any problems accessing these files, please email:
info@futurefundraising.com – Thank you!
Cookie Dough Delivery
Free shipping on orders of 70 cases or more (420 pails) to most cities across Canada
All orders placed must be ordered in case quantities
(1 case = 6 pails, same flavor)
Future Fundraising and group organizers arrange delivery dates
Future Fundraising arranges shipment to your location.
This is a perishable product, and it is suggested that it is distributed the same day of delivery.
Estimated freight costs will be determined prior to the start of your campaign to ensure NO SURPRISES!